How memes changed the world in real-time.
This is perhaps one of the most random, yet low-key phenomenal, occurrences that has recently taken place purely  online. Surprisingly (but not actually) it involved the U.S. election. What was so amazing about "Draft Our Daughters" was the fact that is purely developed over the internet, the movement was organised and carried out completely online. Yet, the effects carried into real life, with the possibility that they did in fact swing, or at least affect, the election outcome.
Draft our Daughters came as a result of Hilary Clinton revealing that she supports women registering for their countries draft i.e. enlisting for the military. A Trump supporter posted a ridiculous meme on Twitter,
basically mocking Clinton. This seemed to sit well with fellow Trump supporters, who discussed this on 4CHAN. 4CHAN is an online forum type of platform, in which users are all anonymous and are given specific codes so they can be recognised during the conversing on the thread. They also have their country flag next to their anonymous code. Here's the thing, there is no threading, they can reply to certain posts however. Another feature, they have no profiles, you cannot see their post history (i.e. what else they may be posting on) and possibly most importantly for me, they cannot directly message each other. So really, it's just anonymous conversation where all is out in the open, and no-one will ever or can ever be revealed.
So this media space starts discussing the memes creation, and the genius behind it. The users start thinking about potential hashtags, creating more and more memes, ridiculing Hilary's support for women enlisting. They use satirical captions, text that almost distorts Hilary's actual view on the subject. This happened in real-time. People were posting in this thread, asking for feedback before releasing their creations into the wider web.
Concepts were discussed through the thread, they were sharing a logo, even a font, and even discussed colours text should be in. Slogans were created too. So this was being created as it was released in a more public domain. The anonymity of the thread helped many users to become involved as thoughts, ideas, and creations could be criticised without being connected to a certain individual or persona. In other words, your meme could've sucked, but no-one would ever know it was yours.
Eventually, the hashtag #draftourdaughters was created. Many memes were posted on Twitter and some on Facebook. The collective intelligence allowed for a professional look, the real logo and the similarity of each meme meant they appeared as if they were really from Clinton's campaign. Even those memes which did appear quite harsh, with black humour which could be recognised as not legitimate for Hilary's campaign, still caused their consumers to second guess what Hilary's support of enlisting women really meant.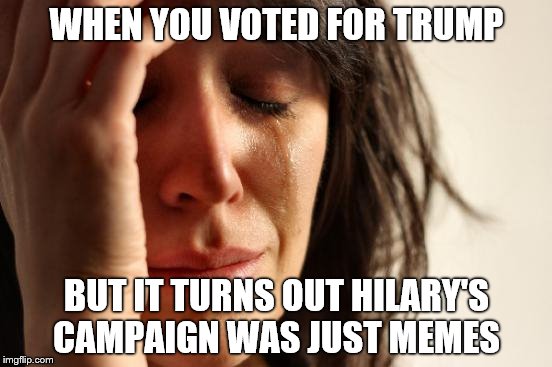 This all occurred in October, very close to the election day. Of course, it is impossible to distinguish a link between consumers of this campaign and if their vote was effected. However, from a personal point of view, users who mainly source their opinions and values through the internet I believe would've been highly likely to have been swung, effected, or even just second guess themselves after being exposed to this propaganda at such rapid and constant rates.
So after all that, there's a prime example of how memes really can change the world. Or even change how we think or how we interpret information.
P.S. Another example memes effect on society and of the use of 4CHAN here is the bendable iphone movement.